Our world-class meter management and transaction processing technology will take care of all your utility management needs.
We have integrated a number of our solutions specifically for companies that manage 1000's of meters on behalf of landlords or property managers. We will help you collect payments for electricity, gas and water on a single bill or single account.
Our software solutions are specially designed to simplify all things utility management for utilities with millions of meters (or less!). For starters, we can manage your intricate rates and tariffs as well as automate your collection of payments.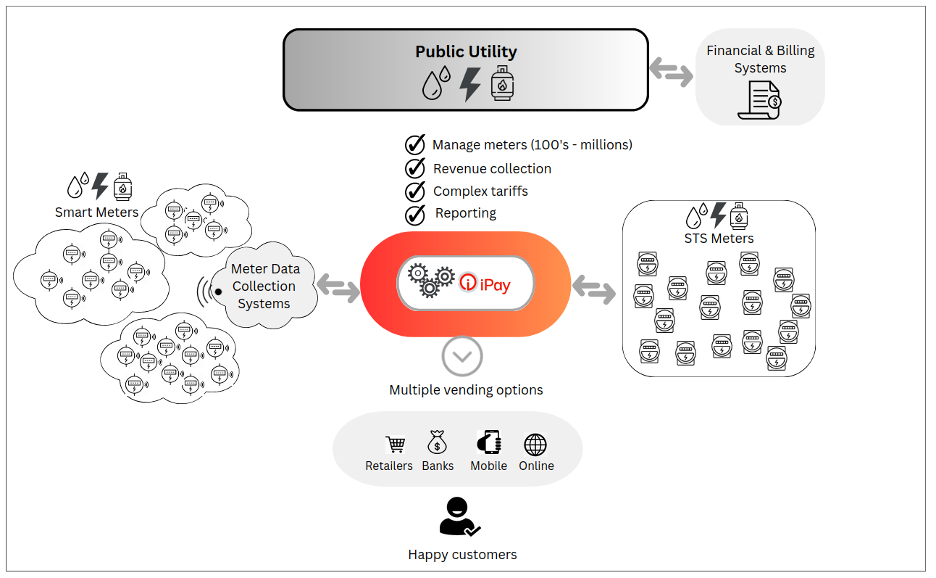 With us in your corner, routing prepaid utilities and airtime purchases, along with bill payment and card payments, to the correct supplier will be taken care of. You no longer need to worry about which utility to connect to for which meter or how to keep up with the latest integration API that a supplier is forcing you to upgrade to.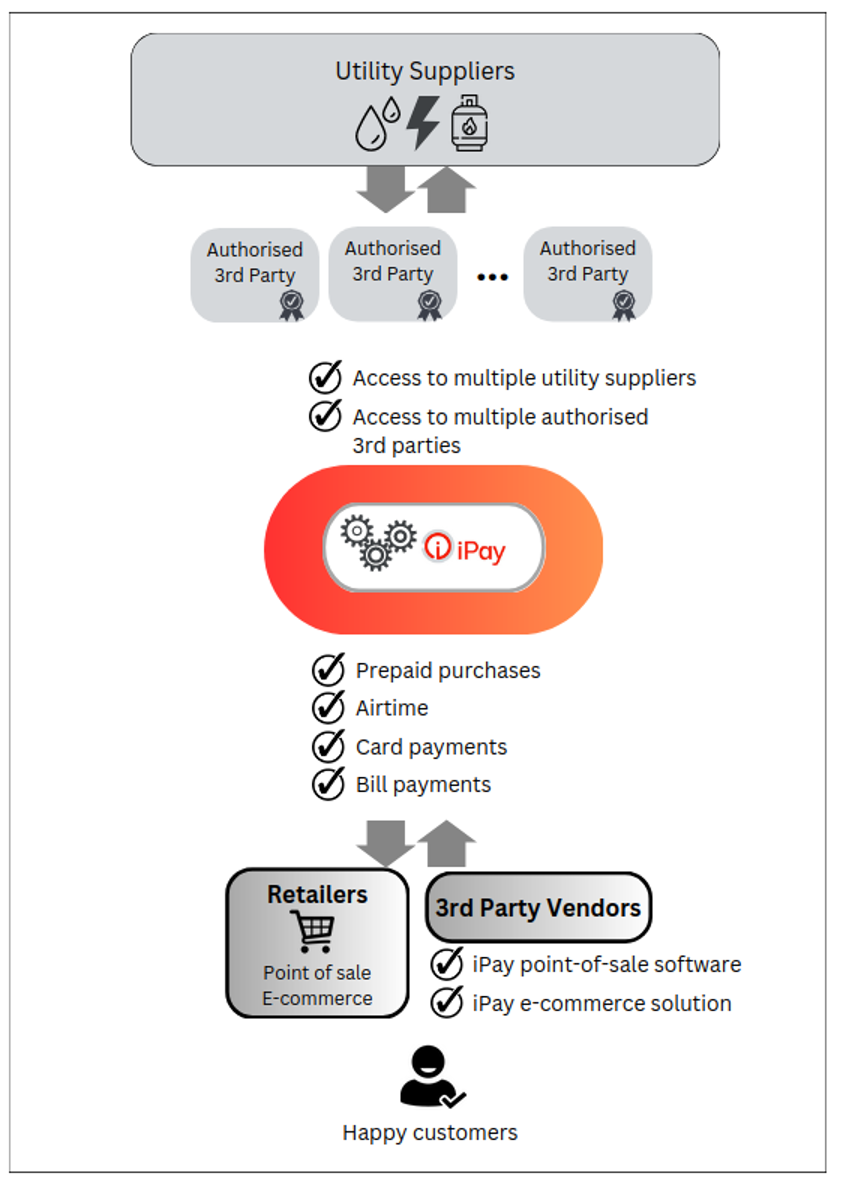 If you want to modify the software on your point-of-sale device to handle prepaid metering, bill and airtime transactions or if you want a new fully-developed pos that works out of the box, look no further than iPay. Plus, we can provide e-commerce web and mobile alternatives to run alongside existing systems.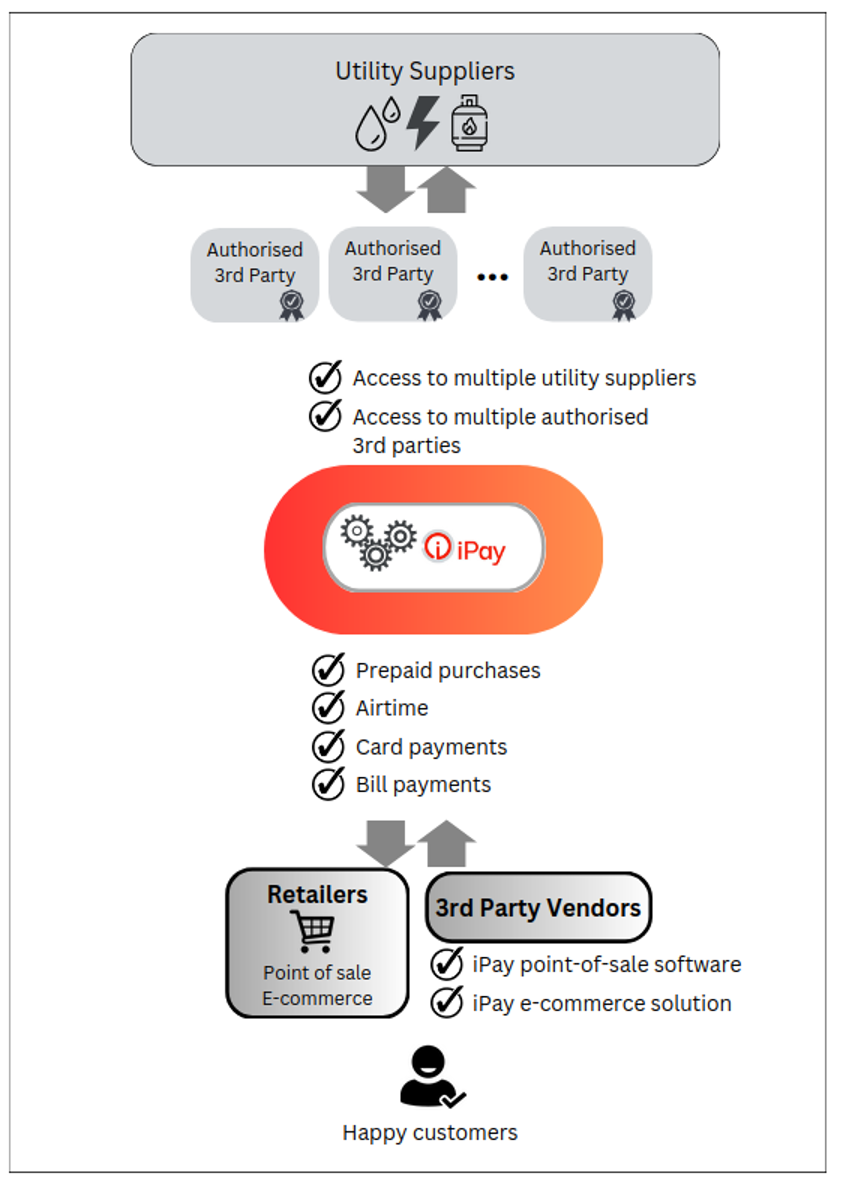 We have the perfect offering for you.
Get our world-class signature software solution in your corner.
Top up prepaid phone accounts via a secure store of centralised stock or via pinless recharge directly through the network operator.
From electricity, gas and water meters and their tariffs to customers and auxiliary accounts, we offer comprehensive meter management.
Get 24-hr access to prepaid top-ups or postpaid billing for Standard Transfer Specification (STS), smart and proprietary meters. Multiple payment channels are available, including point-of-sale, vouchers, mobile phones, online and via third parties.
Capture your data in the field, manage your field team's tasks and track them by time and location. The tailor-made forms streamline the data capturing process. Uses include the capturing of meter readings or survey information.
Payments for any authorised third-party can be seamlessly collected on our platform. Payments are cross-references with unique ID numbers, and cash is transferred directly to the relevant person or business.Bills can be paid at retail outlets, banks, via cellphones and the internet.
Our platform facilitates the acquiring of debit card, credit card and other electronic funds transfer (EFT) transactions. Our PCI certification ensures an unrivalled standard of quality and security for sensitive credit and debit card details as well as other banking information.
A selection of third party budget-friendly terminals are available with iPay's software to manage and carry out airtime, electricity, gas and water top-ups and bill payments. These terminals enable service providers to rapidly expand their service delivery base, and simultaneously establish new distribution business.